According to the official introduction of WHO, 466 million people (accounting for 5% of the total population) worldwide suffer from disabling hearing loss. This number is expected to rise to 900 million by 2050. One out of every three elderly people over the age of 65 in the world is deaf or hard of hearing, and there are still 32 million children under the age of 15 in the world who also have the above problems. The regions with the most severe hearing impairment are mainly South Asia, the Asia-Pacific region, and regions outside southern Africa. In addition, the output of hearing-aids cannot meet the needs of hearing-impaired people all over the world. In developing countries, less than 1 in 40 hearing-impaired people has a hearing aid.
Hearing-aid is one of the medical devices that help those with hearing loss who want to improve their hearing. It is a small loudspeaker that amplifies the original sound, and then uses the residual hearing to send the sound to the auditory center of the brain, thereby feeling the sound. The well-known American audio brand Bose has launched a hearing-aid called SoundControl, which is the first FDA-approved treatment for mild and moderate hearing-loss people. The traditional hearing aid market is facing new strong competitors.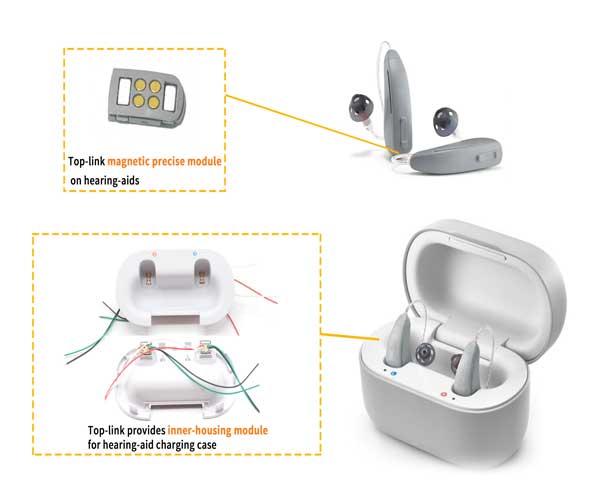 For this hearing-aid of Bose, Top-link has researched the inner-housing module for hearing-aid charging case and magnetic precise module on hearing-aid. The inner-housing module for hearing-aid charging case consist of Pogo Pin, magnets, magnetic cable and outer shell components. The modular design of the inner-housing module for hearing-aid charging case makes it easier for customers to realize the whole. Top-link Pogo Pin is designed to withstand high current transmission of 1A-10A, which can realize fast charging. The inner-housing adopts precision injection molding, which has the characteristics of high precision and beautiful appearance. Top-link provides customers with one-stop inner-housing module for hearing-aid charging case, customized R&D automation equipment such as welding, dispensing, assembly, and testing, saving labor costs and ensuring product consistency.
And in the hearing aid end of this product, Top-link's magnetic precise module(magnetic pogo pin connector module) are automatically attracting by magnets, making it convenient for users to use. The Solid Pin(female pogo pin) on the magnetic precise module(magnetic pogo pin connector module) adopts a special electroplating coating structure, which is corrosion-resistant and resistant to artificial sweat. Top-link can customize electroplating solutions according to the actual needs of the product.
As a kind of medical device, hearing-aids have high R&D difficulties and quality limits, involving interdisciplinary fields. Due to the high technology and high process difficulty of medical devices, need to be recognized by strict standards. Since passing the ISO13485 medical device quality management system in 2020, Top-link has provided high-quality solutions for many smart medical and health management industry customers at home and abroad.