According to statistical data, the current number of people with hearing impairments in China is 27.8 million, including 1.71 million children under the age of 14 with hearing impairments, and about 700 thousand to 800 thousand children aged 0-6 with hearing impairments. Every year, there are 30 thousand deaf children newly increased. Hearing loss can hinder children's learning of speech and language, affect their healthy development, and lead to insufficient speech and cognitive abilities than healthy listening children, leads to growth retardation in psychological development.
Sonitus Medical originates from Silicon Valley in the United States and focuses on providing innovative hearing solutions for people with hearing disabilities worldwide. Sonitus Medical has over 100 global invention patents, and the first generation dental bone conduction technology has won the first place on the "Top 10 Medical Innovations in the United States" list evaluated by Cleveland Hospital in the United States. They chose Top-link, which has rich experience in the electronic connector industry, excellent product quality and reputation, to achieve the charging and conduction function of the hearing-aid.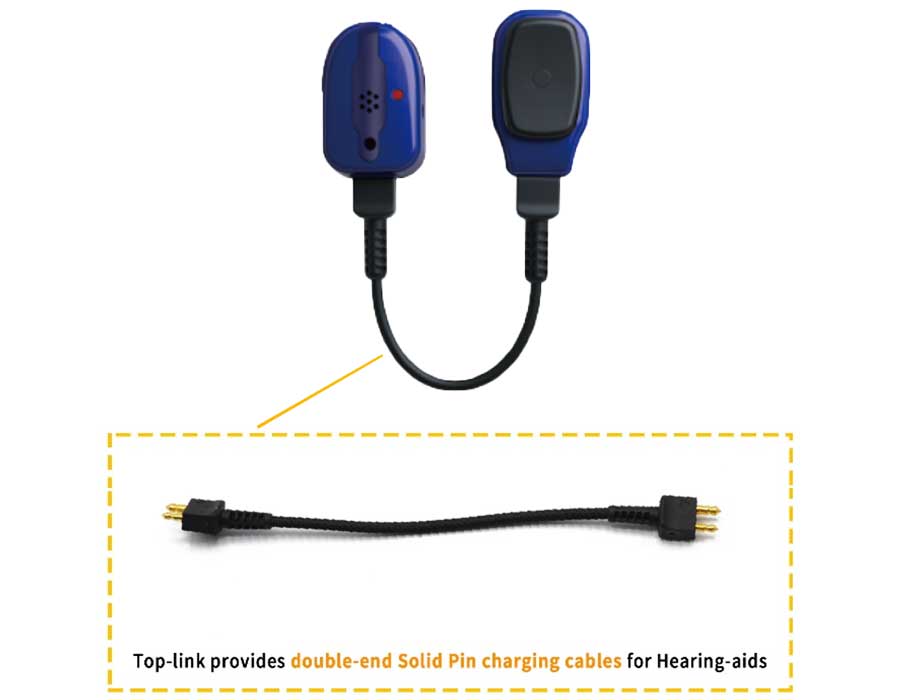 Sonitus Medical requires that the conduction impedance of the double-ended Solid Pin charging cable(pogo pins charging cables) of this hearing-aid is less than 0.1 ohms, and the insulation resistance of the adjacent pins of the connecting cable is greater than 100 ohms. The double-ended Solid Pin charging cable(pogo pins charging cables), in addition to meeting the customer's parameter requirements, has a fine-grained appearance with a certain friction force, which is convenient for plugging and unplugging. At the same time, a triangular symbol (a red symbol printed) is added to the front and back of the pin's top position for fool-proof identification. The double-ended Solid Pin charging cable(pogo pins charging cables) has improved its strength in raw material processing. After strict reliability testing and strength testing, it has fundamentally avoided the occurrence of corrosion, cracking and other adverse phenomena.
In recent years, Top-link has insisted on using scientific and technological innovation to empower enterprises to promote industrial transformation and upgrading. Top-link has made remarkable achievements in the integration of industry, university and research, develop the local and industry standards, made positive contributions to the high-quality deve