The basic structure of the Pogo pins has already been introduced in the previous article, where we will talk about how the Pogo pin works.
As we mentioned in the previous article, the role of the pogo pin is to conduct a conductive signal or current, which is equivalent to a wire, and the difference between the pogo pin is that the pogo pin is a very flexible wire that can be quickly connected and disconnected, without affecting the independence between two objects that need to communicate with each other. For example, TWS Bluetooth headset and its charging case, can not always drag a line between the headset and the charging case, can it still be called true wireless Bluetooth headset, it will be very inconvenient to use.
For two independent connection points to be conducted, a certain amount of force must be applied to increase the contact area between the two and ensure the normal flow of current. The spring in the pogo pin structure plays this role. It will exert a certain force on the needle in order to better allow the needle of the pogo pin to contact its corresponding contact and ensure the conduction performance. Therefore, the elasticity of pogo pin, according to different products, different application scenarios are different.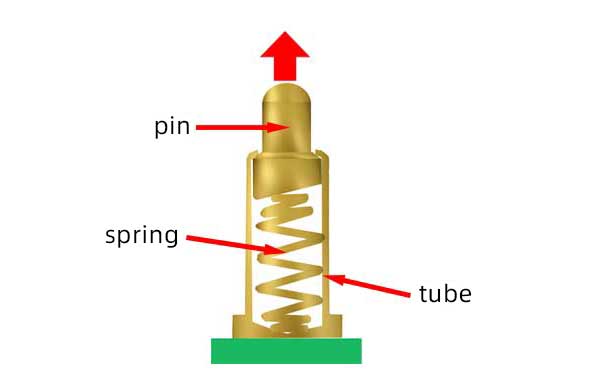 The pin tube of the Pogo pin is soldered and fixed on the PCB board, and the current or electrical signal is transmitted from the inner wall of the pin to another part of the connection through the needle, so as to complete the transmission of the current or electrical signal. In order to increase the contact area between the needle and the needle, the tail of the needle (located inside the needle) is generally a bevel, so that when the needle is pressed down, the spring against the needle will make one side of the needle close to the inner wall of the needle. See the image below: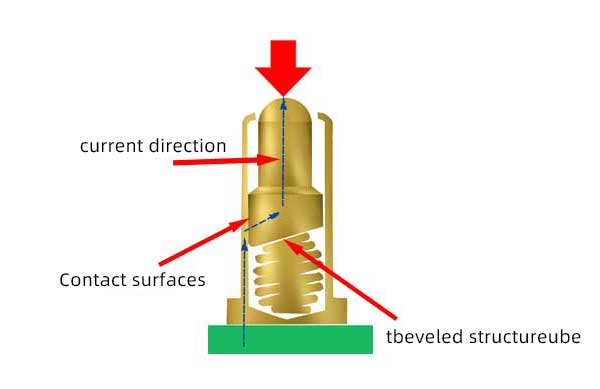 Let's briefly summarize the working principle of PoGo pin, the role of PoGo PIN is conductive or electrical signal, pogo pin soldered on the PCB board The entire connection is completed by conducting an electric current or electrical signal through a needle held by a pogo pin (which requires a certain amount of downforce to be applied) to the external part through the inner wall of the needle.
Well, the article is written here first, interested in the application of pogo pin and other related articles, welcome to pay attention to our website. Please indicate the source when forwarding.