FEATURES & BENEFITS
Top-link Tech Pogo Pins and Connectors (spring loaded terminals) consist of a pin, barrel, and steel spring with or without an insulator carrier. They are used in many industries across a wide range of applications to make a secure, high reliability connection.
This series is highly customizable to meet specific stroke lengths, heights, and electrical capabilities. High-temp plastics are used for our insulators and unlimited molding designs allow for many different shapes and styles to be created for specific applications.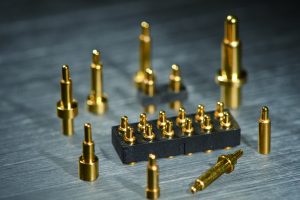 Features and Benefits:
High Reliability, corrects connection between uneven surfaces and satisfies high vibration connection requirements
Fine pitch, Can effectively save space
Highly Customizable Size, stroke, shape, pin count, etc.
Low Cost and Easily Integrated, Longer service life
CUSTOM MAGNETIC POGO PIN ASSEMBLIES
Magnetic assemblies are a popular and quickly growing cable assembly choice. Top-link Tech has incorporated 16 years of connector knowledge and experience to develop a line of custom magnetic assembly solutions.
These cable assemblies offer several key features and benefits in the market:
Blind mate and easy connection
Waterproof capabilities
User friendliness
Easily detachable for real world applications (fitness, medical, outdoor, etc)