Google's first tablet since 2018's Pixel Slate has finally arrived, but the Pixel Tablet is a move in a completely new direction. It comes bundled with a Charging Speaker Dock which makes it just as much a smart display as it is a regular Android tablet.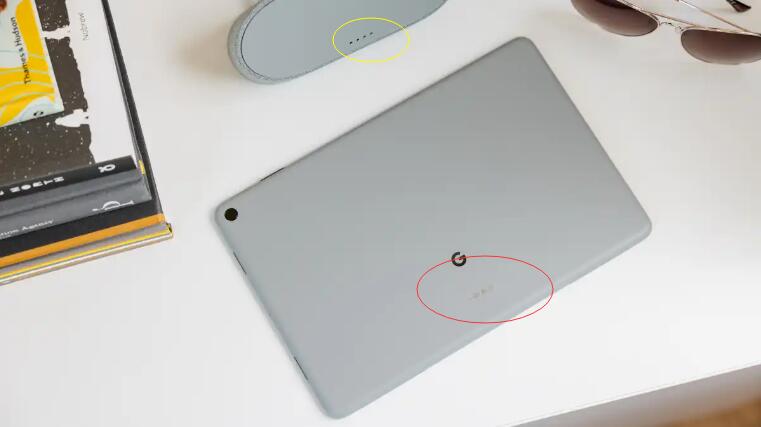 The four metal pogo pin contacts on the Google tablet serve multiple purposes. These contacts are small metal pins that are located on the bottom edge of the tablet. Here are some of the roles of these contacts:
1. Charging: The pogo pin contacts allow the tablet to charge quickly and efficiently. By connecting the tablet to a charger, the pins can send power directly to the battery, which allows the device to charge quickly.
2. Data transfer: The pogo pins are also used to transfer data between the tablet and other devices. For example, if you want to transfer photos or music to your tablet from your computer, you can use a data cable that connects to the pogo pins.
3. Connection to keyboard: The pogo pins are also used to connect the tablet to a keyboard. This is done by attaching a keyboard case that has its own set of pogo pins. By connecting the two sets of pogo pins, the tablet and keyboard can communicate with each other and allow you to type on the keyboard instead of using the tablet's touchscreen.
4. Connection to dock: Finally, the pogo pins can be used to connect the tablet to a dock. A dock is a device that allows you to charge and sync your tablet while it's sitting upright on a stand. By connecting the pogo pins to the dock, you can charge your tablet and use it as a hands-free device for watching videos or making video calls.
In conclusion, the four metal pogo pin contacts on the Google tablet are an essential part of the device. Without them, the tablet would be much less versatile and useful. Whether you're charging your tablet, transferring data, connecting to a keyboard, or using a dock, the pogo pins play a critical role in making your tablet experience as seamless as possible.