The material of the needle and needle of the pogo pin connectors needle is generally brass, while copper is a non-ferrous metal is more active, exposed to the air is easy to react with oxygen in the air, the surface will oxidize. Therefore, pogo pins need to be surface plating; The more commonly used is generally to do gold plating on the surface, and some will require nickel plating, galvanizing, silver plating or rhodium ruthenium plating. Today we will introduce several plating methods and their characteristics of pogo pin common plating methods.
The first type, the surface is tinned
For general pogo pin connectors with very high cost requirements, tin plating is also more common, because the price of tin is relatively cheap. It's just that the texture of tin is soft, in order to ensure good contact, a high contact force (at least 100 grams) is required to ensure its conductivity, and tinning The number of insertion and unplugging times of pogo pins is generally low (not wear-resistant). Surface tin plating can only play a simple protective anti-corrosion effect, the working temperature is relatively low, brass or bronze tin plating working temperature can reach 110 °C, steel tin plating working temperature slightly higher up to 190 °C.
Second, the surface is gold-plated
For pogo pin connectors that require high reliability, transmit small signals, and have low contact force, gold plating is commonly used. The chemical properties of gold are not active, not easy to oxidize, and the corrosion resistance of gold is also good, and it can achieve high times of plugging. It's just that the price of gold is relatively high, and the cost will increase.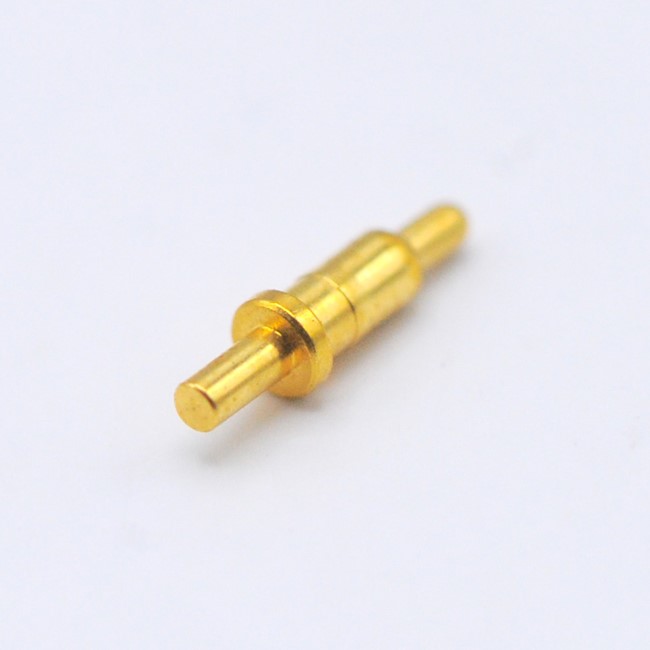 The third is nickel plating and palladium plating
Nickel is generally used for gold plating, but nickel plating is mostly used in steel contacts (copper plating is required). Palladium conductivity is worse than gold, and in some limited ranges, electropalladium plating can be used instead of electroplated gold. At present, the price of gold continues to rise, in order to control costs, palladium-nickel alloy products will also increase.
The fourth type, the surface is silver-plated
Silver-plated pogo pin has very good conductivity and costs less than gold, but silver is also a living metal and is also very good It is easy to oxidize, so silver plating is only selected in special cases, and the application is relatively rare. For higher operating temperatures, other coatings are required, such as copper nickel plating 340°C, while nickel plating in brass or bronze can also reach 250°C.
In order to improve the anti-corrosion, anti-electrolysis, artificial sweat resistance of the pogo pin, improve the electrical performance and stability of the connector, reduce the temperature rise and other application requirements, the current pogo pin connector needs to be done Surface plating treatment. Depending on the needs and applications, different plating methods and materials may be used.