E-bike (Electric bicycle) has developed more attractive than ever before. When you are outdoors, reduce traffic congestion and lower emissions. According to data from "MARKET AND MARKET", the e-bike market will reach US$51.5 billion in 2023. By 2028, the global E-bike market size will reach US$77.2 billion, at a CAGR of 8.4% from 2023 to 2028.It is expected that with the gradual awakening of users' environmental awareness and the assistance of rising fuel prices, the demand which will boost e-bike sales. Government in many cities around the world have taken initiatives to build highway lanes for e-bikes.
Governments around the world support increasing sales of E-bikes to reduce carbon dioxide emissions. E-bikes are a low emission transportation that has advantages in health, time, cost, safety, congestion, air and noise pollution, and energy security. E-bike is a more effective alternative to other modes of transportation over short distances. Therefore, in order to achieve carbon emissions targets and encourage more and more people to choose cycling. The Netherlands, Germany, Belgium, the UK, France, Denmark, etc. are actively taking initiative to promote e-bike sales.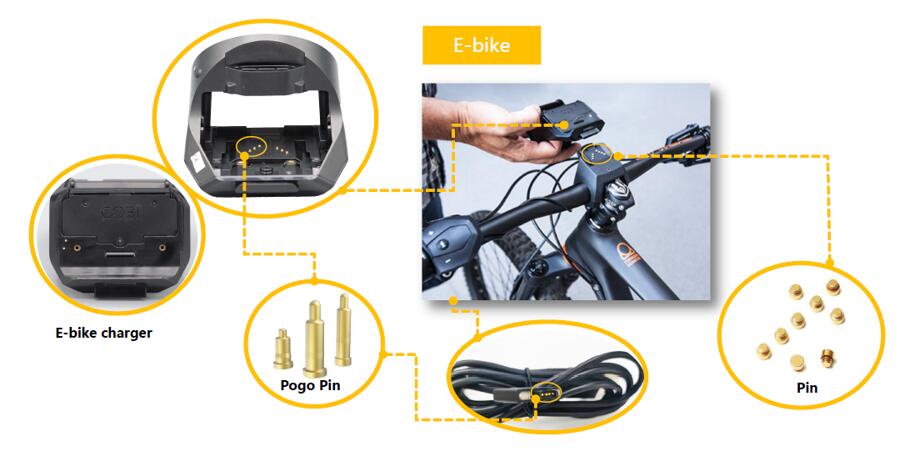 E-bikes are equipped with rechargeable batteries to assist the rider in providing power. An e-bike takes 6 to 8 hours to fully charge, with a speed of about 20 kilometers per hour and a driving range of 35 to 50 kilometers. E-bike charger is an important component of e-bike, which directly affects the user experience, while Pogo Pin connector and magnetic cable play a decisive role in e-bike charging. Top-link provides Pogo Pin connector and magnetic cable products for e-bike chargers. Magnetic charging automatically attracts each end, making charging convenient. Zero insertion force, easy plugging and unplugging, not easy to drive the charger, ensure stable contact. At the same time, the waterproof level is customized and can reach IPX5 or above, so you are not afraid of rain while riding.
Whether you are hiking or traveling, Top-link's Pogo Pin connector and magnetic cable can provide you with reliable charging connections, making your cycling journey easier and more enjoyable, let you fully enjoy the convenience and surprises brought by cycling!